Contents
Corporate Social Responsibility
Over the past thirty-plus years, as SAE-A's business has grown, so has its commitment to employees, corporate social responsibility, and the environmental stewardship. These commitments extend across the entire organization—from its corporate headquarters to its manufacturing facilities. The company is a member of each community in which it works. SAE-A invests in its future, not only through the jobs at facilities, but also through pro-social programs extending beyond the company's campuses. From traditional charitable giving to professional training programs; from infrastructure investments to the environment; and from childhood education to public health, SAE-A strives to be an exemplary member of the community. Understanding that no two places are the same, and to best respond to the needs of each community, pro-social programs are designed locally in conjunction with local employees.
From funding a Guatemalan orphanage to supporting the police and fire departments in Nicaragua to providing free sewing classes to the disabled in Vietnam, SAE-A is committed to making a positive impact all around the world. More information about several of our programs follows.
Working with Communities
Global Headquarters in Korea
SAE-A cultivates an appreciation for corporate social responsibility at its headquarters through in-house CSR seminars and providing opportunities to participate in community outreach projects. Employees are eager to give back to the community whether by visiting orphanages and rehabilitation centers or supporting an orchestra of underprivileged students by helping them buy instruments and pay for music lessons.
Indonesia
SAE-A Indonesia delivers lunch boxes

SAE-A Indonesia PT.SJC has been holding a lunch box volunteer event for a local impoverished village from 2011. The event was attended by both SJC SAE-A employees and local employees. The reason why SAE-A Indonesia's event is particularly special as the volunteers use the Happy Center, established in partnership with a local volunteer organization, to make fried chicken lunch boxes and to take them to impoverished villages in Tanjung Priok, and Muara Karang.






Community Support

In celebration of Lebaran, the biggest holiday in Indonesia, SAE-A's Indonesia branch donates aid kits containing clothes to community service centers in Cikumpay and Cijaya near its Indonesian branches for people in need.

In Cilegong, SAE-A partnered with the local government and communities to build a bridge that is helping ease transportation burdens and facilitate economic activities in the community.

SAE-A has worked with the community to build a water reservoir providing clean water families in the area while also helping them save money previously spent on procuring water.
Vietnam

In Vietnam, SAE-A sponsors the Tam Binh Shelter and Tam Bihn Orphanage. Located near its Vietnamese facilities, Tam Binh Shelter cares for children born with HIV. Employees from the Vietnam branch visit the shelter and orphanage twice a month to drop off food and clothing donated by employees and the management.

SAE-A local labor union and the Health Department of Thanh Hoa have worked together to provide free anthelmintic medication for employees. The program included training in preventative measures to guard against parasitic infections.
In July 2017

SAE-A Vietnam awarded scholarships to 215 children of our Vietnamese factories employees so that they could attend a local school that was otherwise too expensive for their parents to afford.
Myanmar
As SAE-A explores opportunities in Myanmar, we are sponsoring two football clubs in Yangon - Konglanghpu FC and Sumbrabum FC. Konglanghpu FC was created by young students studying Christian ministry at Dagon Bible College in a small town near Yangon, and Sumbrabum FC consists of factory workers and students.
Guatemala

SAE-A Guatemala sends volunteers to the volcano eruption affected region

The eruption of volcano (thought to be dormant) 40km away from Guatemala factory in the capital of Guatemala occurred on June 2018 resulting in untold damage from the volcano ash falling on the nearby cities of Antigua, Escuintla, and Chimaltenango. Hearing from family, residents and the local media about the seriousness of the damage and the need for aid, the company mobilized a group of company associate volunteers to dispatch to the heart of the disaster area. Volunteers arrived at the region affected and by Volcan de Fuego and began the distribution of emergency supplies, water, foods and engaged in reconstruction efforts.

Community Support

Run by a local Guatemalan religious organization, The House of Angels is a vocational school that provides housing and education for children who are from disadvantaged backgrounds. Members of the Guatemala branch visit the students, donate clothes and support their sewing course.



SAE-A has also been a part of the Policia Nacional Civil of Guatemala's Meeting of Families of Heroes, a celebration in honor of the families who had lost loved ones in the line of duty. Taking place around the holidays, SAE-A was honored to give back by donating clothing and gifts for more than 600 children.
Nicaragua

Tree Planting Campaign held in Tipitapa

Held every year with support from the Tipitapa City Council, SAE-A's Nicaragua branch co-sponsors a tree planting campaign at Jose de la Cruz Mena elementary school. Designed to educate children from an early age on the importance of environmental preservation, this campaign gives children the tangible experience of planting trees with their own hands. This year, our Nicaragua branch also donated clothing and ball caps for 150 students. SAE-A has supported the local Tipitapa police. For example, through the donation of computers, the station has improved operational systems and data processing.
Haiti
Founded the S&H School

While our business investments create jobs and stimulate markets, we firmly believe that education is critical in ensuring a better life for future generations. In developing the S&H School, the SAE-A Foundation has worked closely with the Government of Haiti, the Korea International Cooperation Agency (KOICA), and local stakeholders to ensure the school meets all requirements and provides an exceptional education to all of its students. In addition to required subject material, the school has a bilingual component for students to learn in English, Haitian Creole, and French, and incorporates the latest technology in its curriculum. We were especially proud that the president of Haiti joined us for the official opening ceremony of the school.


SAE-A's Impact

We employ 12,147 Haitians: 80% have never held a job before nor have they had a stable income; more than 70% are women; and more than 391 local employees have already been promoted to supervisory positions. The average monthly salary is nearly triple the nation's GDP; 70% of the workers earn more than that. Each employee receives paid vacation, 15 days of sick leave, free transportation, and annual medical screenings. In 2018 we had more than $198M in exports—88% above the previous year. In total, more than 40,000 Haitians benefit from the jobs SAE-A has created. That's just part of our work. Through our Foundation, we built the S&H School that provides tuition free best-in-class education for 500 students, a number that will grow by about 40 students each year. And students receive hot meals daily. The high school will be completed by 2019 and will be expanded to 700 students. We are committed to doing whatever we can to make the local community a better place.
Focus on Employees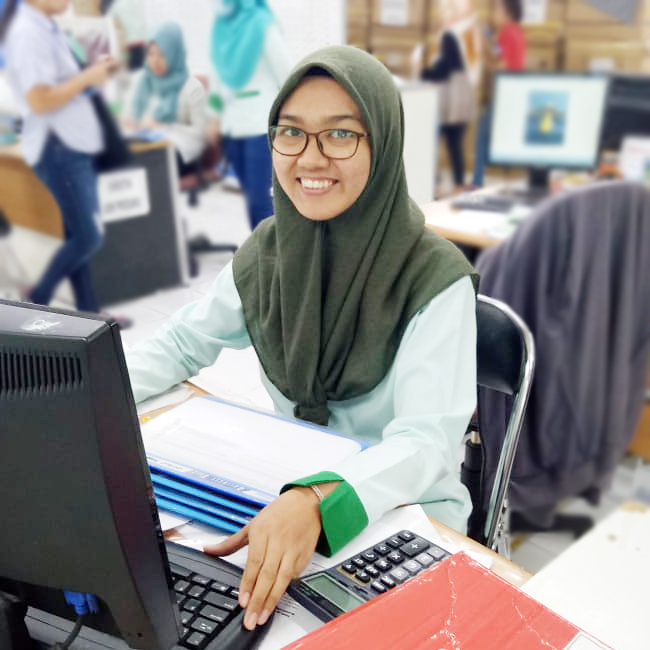 Indonesia

Puput Ayu Manggarai

"My dream is coming to fruition while working for SAE-A"

I found out about an employment opportunity with SAE-A through a friend of mine back in 2016. I applied, passed the interview process and currently working as an administrative assistant for the finishing team along side a team of colleagues and a supervisor who are like family. Although SAE-A is my second job, I think my career has really made strides because I have been able to learn more than with my first employer.
At SAE-A my salary is better which has improved my quality of life at home. Thanks to the fact that SAE-A is well organized and strict about making sure that work hours and paydays are strictly observed, there is less stress both on and off the job. Since I started working for SAE-A, I have saved enough money to pay for college tuition and I even helped my parents with their home-remodeling.
In the future, it is my dream to study fashion design overseas and someday run my own business, maybe a small scale fashion company or apparel alteration business.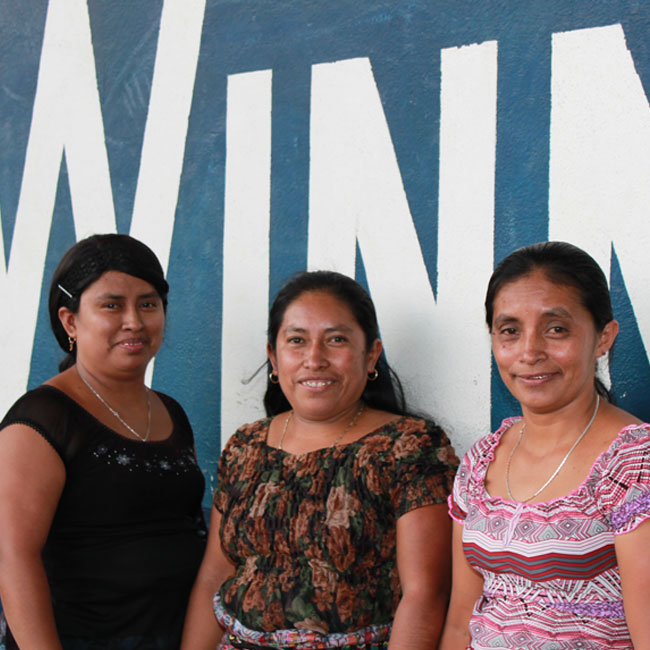 Guatemala

Leonarda Enriquez Gomez

"Ever since I became a mother, I've dreamed of sending all three of my children to school"

I'm so fortunate to have a job at SAE-A. My older sister, Ana, recommended SAE-A to me and now I'm working with her and my younger sister Paula. Paula was the first one to apply for a job at SAE-A because she had heard about its good reputation. When she told me about SAE-A, I decided to apply too. Ever since I became a mother, I've dreamed of sending all three of my children to school, and now, with my job at SAE-A, I can. As my husband also works for SAE-A's fabric factory, we have a double income. We still live in a rented house but, in a few years, we will have enough money saved to buy our own house.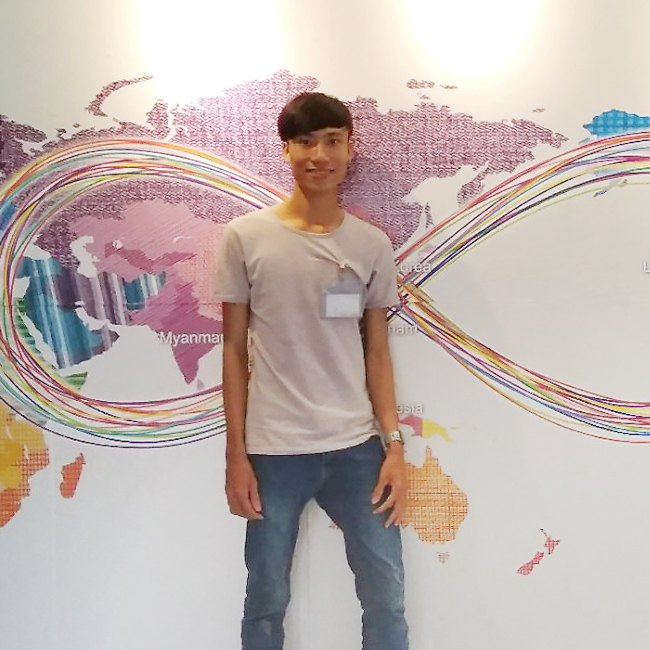 Vietnam

Le Duc Tai

"Thanks to SAE-A, I'm able to support my family."

I first learned about SAE-A from a friend who was an associate and joined the company in 2015. When I first joined the company, I didn't have any particular skills and could only do very simple tasks. However, after receiving some sewing work training, I became proficient and have improved a great deal. Before joining SAE-A, I worked for a number of companies, but couldn't keep a steady income. But now, I not only have a steady income, but also good benefits from Sae-A, allowing me to support my family. I am very thankful for the opportunity that Sae-A has provided, both to learn new skills and support my family. My dream is to keep working hard for the company, save money, get married, and to keep helping out my parents.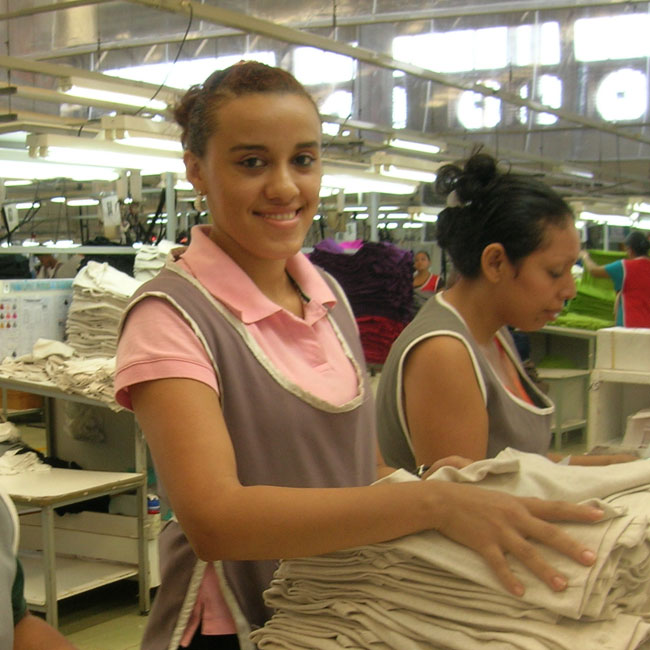 Nicaragua

Rosa Amelia Castrillo Gutierrez

"I've learned a lot of things working here"

SAE-A is the first job I've ever had, and I've learned a lot of things working here. I never want to get a job at another factory because my colleagues say that no other companies have such a pleasant work environment. By saving money, I was able to purchase some land, and right now we are building a house there. I also receive a bonus every year when renewing my labor contract, and by investing this money, I have begun my own business selling clothes, shoes and accessories on the weekends.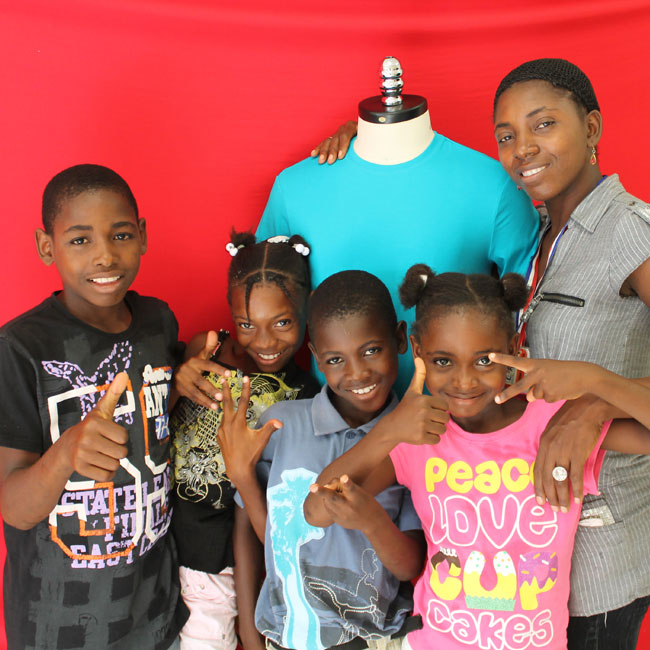 Haiti

Joseph Ysenamene

"Now, I can raise my children on my own without having to borrowing money to get by"

It was extremely hard to raise my six children without my husband. In the past, I ran a rice stand, but I was not able to earn enough money to support my family. Sometimes I couldn't pay my bills or I was pickpocketed while traveling here and there to sell rice. One of my friends working at SAE-A recommended the company to me, saying it is very a good workplace. SAE-A has a free shuttle bus for workers and they never force us to work overtime, so I can look after my children after work. Now, I can raise my children on my own without having to borrow money to get by.
Zero Tolerance Policy
SAE-A believes that our associates are the heart of our business. Their well-being, both at work and home, is of critical importance to the company. Respect is the most basic principle we promote across our entire workforce, from headquaters to factory floors. SAE-A promotes an open work environment, encouraging employees to share ideas for improvement, voice concerns, and maintain an ongoing dialogue fostering a culture of trust.


SAE-A has a zero-tolerance harassment policy. All employees are informed of the policy and how to raise concerns. All managers attend sexual harassment seminars and together with corporate work to ensure that all of the workers regularly are reminded of their rights and know to report any increase of harassment to a manager and that this communication will remain confidential.

Health at Work

For SAE-A, a productive workforce is a healthy workforce. The company provides medical this includes the health of our employees. SAE-A's Guatemala branch provided health education and health screenings to our employees and the spouses of our employees.


Marcelina Lopez, Guatemala : "At first, I was a little bit nervous to get the screening service because I have never had one before, but I feel so comfortable now after I learned that I am fine. I feel so thankful to the factory for taking a proactive approach to care for our health."Mayra Villalta: "I couldn't imagine that I would get any of medical examinations in my life like this. I am grateful to the factory for providing this screening service to me."
Training and Advancement Programs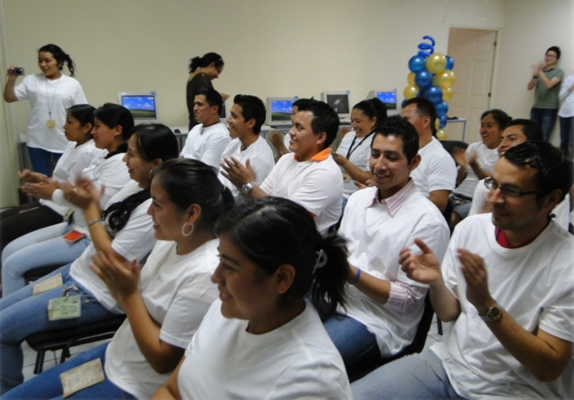 SAE-A offers diverse training courses providing our associates with the knowledge and resources necessary for advancing their careers. Classes focus both on skills of importance to an employee's job at SAE-A, including language classes, but we also, broader professional development courses. SAE-A's Guatemalan branch found many employees were interested in learning computer skills, but few had access to the technology or education. In response to the incredible interest, SAE-A invested in a new computer lab where we hold computer literacy classes for employees and their children.
Edy Fernando, Guatemala :
"Learning how to use computers has been on my wishlist for a very long time. I'd appreciate the company giving me this opportunity."
Delia Joachin, Guatemala :
"I want to learn how to use Excel among other computer programs. I'll work hard to learn it so that my kids would be proud of me."
SAE-A's Haiti branch holds leadership seminars on a regular basis to equip local workers with the skills necessary to solve problems and improve communication. Understanding that many of the employees in Haiti have never been part of the formal economy, we are committed to helping them improve their skills, many of which can be refined through further on-the-job training positions available to employees. Together, these efforts improve working conditions and prepare local employees to take on leadership roles within SAE-A's international organization.
Dorainwil Innocent (Cutting Supervisor), Haiti :
"This is a good initiative, I have worked in several companies, but it is the first time I have participated in this kind of event, it helps us to unite more one and other, the chat on the leadership was very positive for me and helped me a lot to lead my group, I hope that this initiative will repeat in the future."

Mendouard Dieuvelt (Packing Supervisor), Haiti :
"I appreciate very much the event, it helped me a lot in my daily work, I learnt how to solve a problem without much complication with my workers, it would be very important to organize this kind of activity every three months."
Pierre Bernard (General Line Supervisor), Haiti :
"It was an excellent idea, all gathered together at the same table to share our joy, food and drink, even though we work in different area but we are all belong to one company, I hope we can continue with this type of activity to achieve together what we want all success"
Workplace Safety
SAE-A strives to provide a safe and comfortable working environment. In each of its facilities the company comply with local and international standards and programs, such as the ILO/IFC Better Work programs and Worldwide Responsible Accredited Production (WRAP). To do this, SAE-A established a company-wide integrated system focusing on industrial safety, occupational health and hygiene programs. The company's industrial Safety and Health Committee focuses on company-wide workplace standards, working with employees to ensure that we hold ourselves to the best practices, and implementing site-specific preventive activities.
SAE-A understands that best practices on paper are one thing, but without regular training they achieve little. That is why it holds regular health and safety training at all of its facilities. Each training is tailored to respect and reflect local laws and regulations, while ensuring compliance with the company's own high standards. Trainings focus on a range of skills including: fire prevention; first aid; personal protective equipment; workplace safety fundamentals; chemical safety; and maternal health and safety.
Environment & Sustainability
Environmental Management Vision
Environmental stewardship is incredibly important to SAE-A. From carbon emissions to waste management, the company is dedicated to understanding the impact its business. It is constantly exploring ways to be promote environmental sustainability and responsibility. Including unlocking new technologies, innovations and policies that help reduce the impact on the global environment.
SAE-A's Environmental Policy
As a forefront company conducting business globally, SAE-A Trading Co., Ltd. strives to embrace CSR in worldwide environmental issues and attains sustainable development. To be aware of the environmental impact that business activities can put through and to make efforts towards its continuous improvement, we hereby pledge as follows:

1. Comply with global and local environmental legislations and requirements, and perform environmental management above the level of clients' expectation.

2. Minimize the potential negative effects on environment by confirming and continuous managing EMS (Environmental Management System).

3. Comply with global regulations and customers' requirements on the hazardous substances to provide safe products, and commit to enhance customer values by providing eco-friendly products.

4. Contribute to world wide green growth through eco-friendly production including improvement of Energy use, Greenhouse gas (GHG) emissions, Water use, Wastewater disposal, Air emissions, Waste management and etc.

5. SAE-A Trading Co., Ltd. and its partner companies plan and conduct business activities under the consideration of environmental issues, and raise awareness of environment among executives and staff members through continuous trainings.



As a result of above efforts, we aim to provide information of the environmental performance to customers and stakeholders on a regular basis.


Sustainability Board
In July 2008, SAE-A's Board of Directors established a dedicated Sustainability Board, the first for a Korean apparel manufacturers. The Board advises on the creation and execution of company-wide strategy to advance SAE-A's sustainable management practices. The Sustainability Board also created a cohesive whole-of-company Environmental Management System across all branches and facilities to promote eco-friendly production. In order to ensure SAE-A is sensitive to the different environments in which it works, regional committees report to the Sustainability Board regularly. The Sustainability Board holds seminars for employees and partners, across our operations and locations, providing basic information and updates to employees and partners about pressing environmental issues as well as ensuring full compliance with both the government's regulations, and SAE-A's own high standards.
SAE-A releases annual Sustainability reports which contains economic performance, quality innovation management, compliance, social responsibility and environmental management activities since 2013.
Countermeasure for Regulations on Substance Restrictions
SAE-A was a signor of Eco-partnership joining abound 23 major domestic and overseas vendors. The vendors that took part in the Eco-partnership received environmental diagnosis and solution consulting from SAE-A.
The textile industries deal with diverse domestic and foreign laws and regulations restricting products factories can use. We have established a process to make sure we are in compliance. SAE-A writes its buyer's protocol and sharing information with vendors and sales department in collaboration with all Supply Chain Management (SCM) to build the most effective countermeasures.
SAE-A established the Conflict Minerals Policy to deal with Dodd-frank Wall Street Reform and Consumer Protection Act. (Conflict Minerals: 3TG_Tantalum, Tungsten, Tin and Gold_ or their derivatives from the DRC or an adjoining country). Please click the below 'Conflict Minerals Policy' button for more details.
Focus on Facilities
Water Cooling System

In order to ensure optimal working conditions, SAE-A uses a cooling system that leverages green technology. This system allows factories to maintain a comfortable room temperature by pumping water through a porous ventilation wall on one side of the factory. As air passes through that ventilation wall, the water evaporates, cooling the air and increasing circulation. This passive cooling technology offers remarkable results while energy saving and reducing carbon emissions. SAE-A is currently exploring the potential of installing this system in even more factories all around the world.

Benefits of Green Cooling System:

Improve working conditions.
Reduce carbon emissions.
Maximize energy savings.
Saving Energy and Reduction of Greenhouse Gases

SAE-A carries out energy use checkups on a regular basis. With each assessment it works to minimize energy loss and greenhouse gas emissions. Some of the steps SAE-A has taken to do this include :

Changing of the operating method of compressor

Some overseas subsidiaries installed an inverter that controls the revolving velocity, thus maximizing energy efficiency while minimizing electric consumption.

Replacement and installation of lighting fixture

Overseas subsidiaries installed LED lights consuming less electricity. In some regions, subsidiaries replaced existing mercury lights with five wavelength electric bulbs which are highly energy-efficient, and reduce electric consumption from 300W to 85W.

Waste heat recovery system

To minimize energy consumption, some facilities use waste heat recovery system that recycles disused heat from the dyeing process to heat water. SAE-A's Indonesian branch saved about 138,000 dollars compared to the previous year.

Replacement of boilers

Each of SAE-A's overseas subsidiaries installed wood pellet boilers as it rarely generates air polluting materials in the process of combustion and heightens thermal efficiency. Replacing the existing bunker C oil boiler with wood pellet boilers has reduced fuel costs by over 73%.

Disposal of waste materials

As part of efforts to minimize the amount of waste materials, SAE-A sorts and separates industrial and daily waste. In particular, fabric waste is completely burned down in incinerators not only to reduce the amount of discarded fabric waste, but also to prevent soot and smoke from occurring.

Environmental Management System

Saving Energy, Reduction of Greenhouse Gases. Management of Air pollution, Water usage and Waste water & Waste treatment.