SAE-A's apparel manufacturing process spans the entire supply chain from working with customers on design and fabric selection to the delivery of finished garments.
To increase efficiency and ensuring the highest quality, SAE-A has established complete vertical integration by bringing the entire process under one umbrella. To do this, we have applied a Lean Management system.
Realizing Vertical Integration
Seeking to reduce costs, improve quality and streamline our supply chain, SAE-A has worked to realize full vertical integration. One example of vertical intergration is the Spinning Mill in Costa Rica that supplements fabric production and reduces overall production lead time.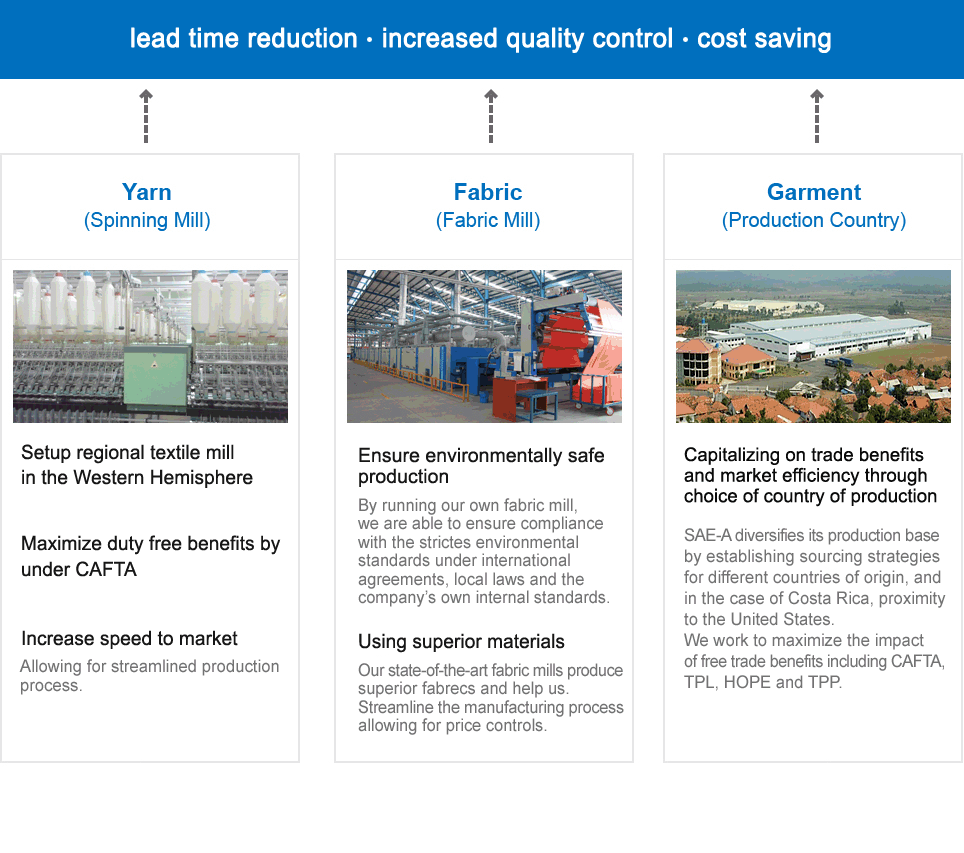 What is "Lean Management"?
Lean Management is the process through which SAE-A focuses on value and safety to achieve our goal of providing the best quality product. The company has established its own rules of Lean Management that promote best practices, process, eliminate waste, and ultimately standardize best practices. As with the majority of SAE-A's initiatives, training is critical to the implementation of these practices and we provide courses and training to all employees across the company.
SAE-A also encourage all of our facilities to provide suggestions for improving work-flow, efficiency, work experience, and quality of the end product. Suggestions from our facilities have become best practices across the company.
Quality Assurance
SAE-A's quality assurance protocols ensure SAE-A facilities maintain the highest production standards, and in turn, highest levels of customer satisfaction.